Hope you all had a happy holiday break. I spent mine getting reacquainted with an old friend I haven't seen for nearly two years. The good news is he's still the same old loveable guy but he's got a new lease on life and is much more fun to be around!
Yes, I'm talking about a fresh update to the venerable Battle of Britain II, Wings of Victory!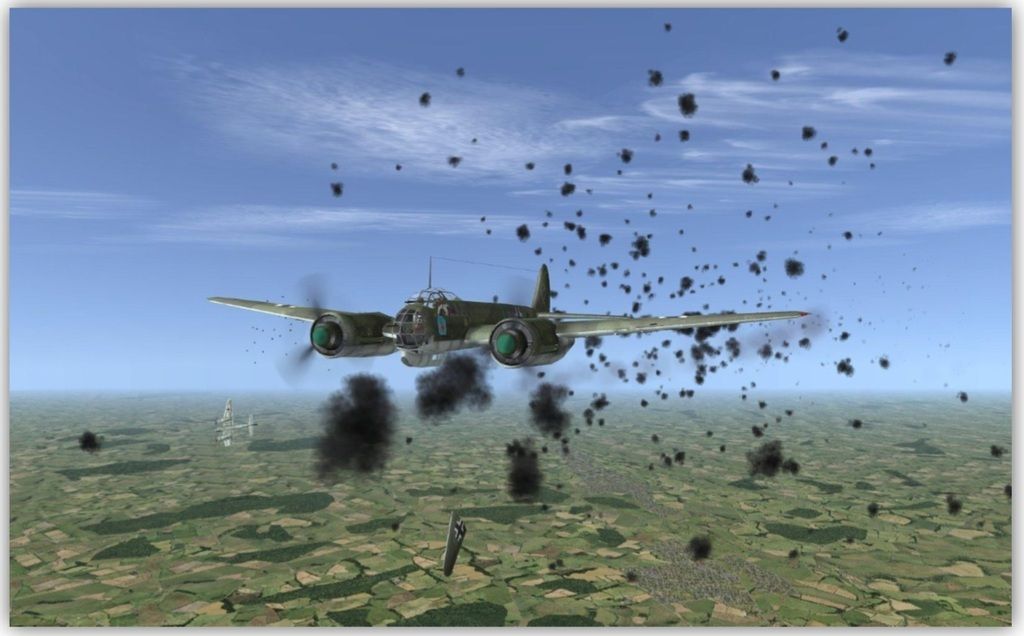 That irrepressable bunch of modders, the BOB Developers Group has not ridden off into the sunset yet. I was contacted by one of the new members, 'Arquillos' who showed me that a reinvigorated BDG has pulled together a comprehensive update to BOBII taking it from version 2.12, to 2.13.
If you are new to the game, go here for the  original review or  here for a video. For a review of the last patch, v2.12,  click here. To download the new patch visit the BDG BOBII  forums, here..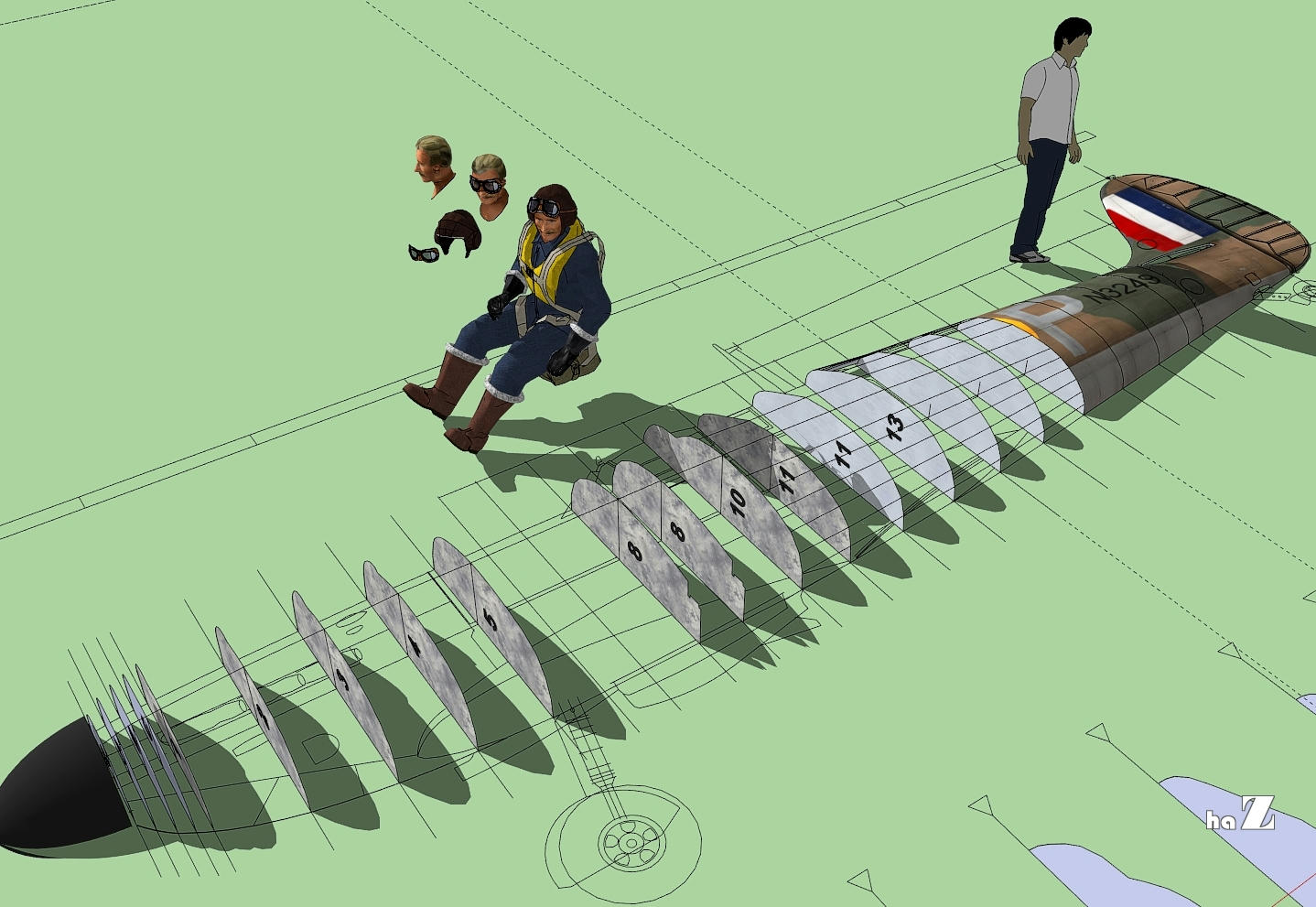 The BDG team has been hard at work taking the sim apart and putting it together again. Here pictured work by 'Hazzie'.
Gameplay test notes
SKINS AND MARKINGS
Getting back into the game, I revelled again in how historically accurate it is, and the new 'multiskin' update really brings this home. To quote skinner 'Cherkassov54', "It is worth re-stating that BoBII does something that no other simulation has ever done (or will ever do). It models every single aircraft down to Squadron or Staffel level with unique paint schemes and identifying codes. All in, over 2,000 schemes for all fighters and bombers are authentically modeled, a unique feature of the passion and dedication of the BoBII community."
HISTORICAL DETAIL
The other element adding to deep immersion is the attention to detail of historical sites in the game. BDG modder 'Stickman' is a stickler for accuracy, and together with the rest of the BDG crew has devoted the last two years to correcting to the last detail, using historical photos and maps, a huge number of factory, port, urban and not least AAA sites so that they are as accurate as the game and the human eye will allow. This map of Stickman's work placing the correct AAA barrels at the correct historical locations all over England, is a tribute to his dedication.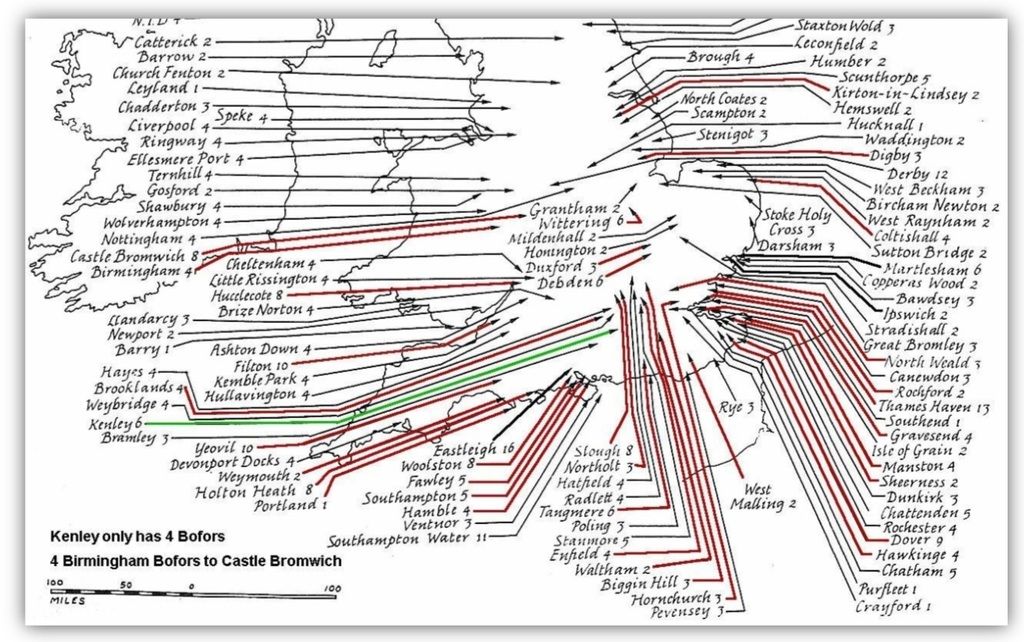 GRAPHIC UPDATES
This is a 2005 game engine, so do not expect Battle of Stalingrad quality 3D graphics. That said, when the gameplay and dogfighting is this good, you can forgive a slightly dated graphics engine.
New locations have been added. such as Newhaven port and the Ouse River valley, Arun valley north to Amberly, Littlehampton area, Sheerness Docks, town, and Queenborough area, Bournemouth city, including seaside cliff elevation, and evirons, north and east to include the Stour estuary area, and West London around Kingston. Calais has been extensively corrected and reworked.

Sheerness docks and town. You can bet if there is a crane, oil tank or pub in this picture, it is because it was seen exactly there in 1940!
Modder 'Boreas', who lives in Kent, has been diligently tuning the landscape tiles to better reflect the colours and tones of summer/autumn in SE England. The game also includes the best of his sound mods for engines and guns. The list of other contributors to this area of the game is long, and it includes small and large improvements to cockpits, radio sounds, special effects such as bailout sounds, and water collision.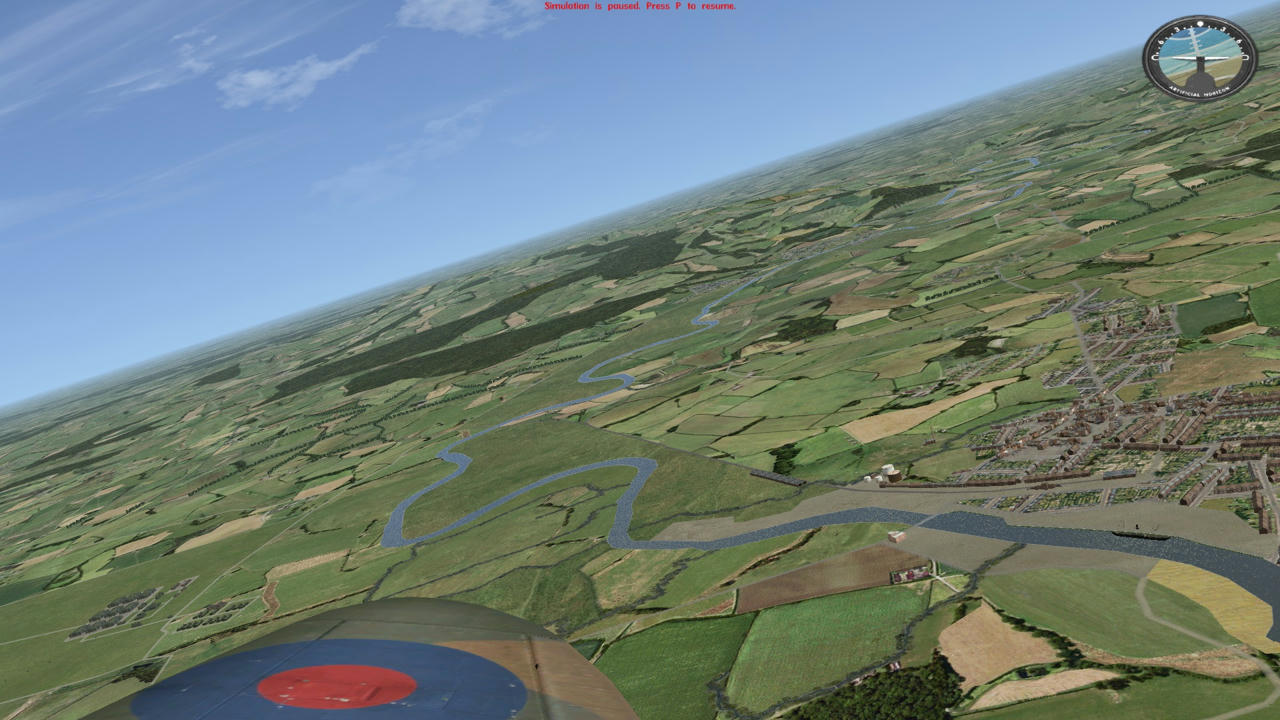 New summer textures from 'Boreas'
GAMEPLAY FIXES
The heart of BOBII is the amazingly detailed, fully dynamic single player campaign, and that's where you really notice the game has been improved. As good as it was, it was full of niggling little problems – half the time when you set up a Luftwaffe raid, the escort would race ahead of the bombers, not rendezvous, leaving your bombers to get slaughtered.
FIXED!
Or you would frag into a dogfight, win the furball, fly home with your squadron and see ten of 12 aircraft land with you, to be told in the after battle report that your squadron had been decimated and lost all but two aircraft. The battle reports were occasionally quite screwy and didn't always match what was actually happening in the sky.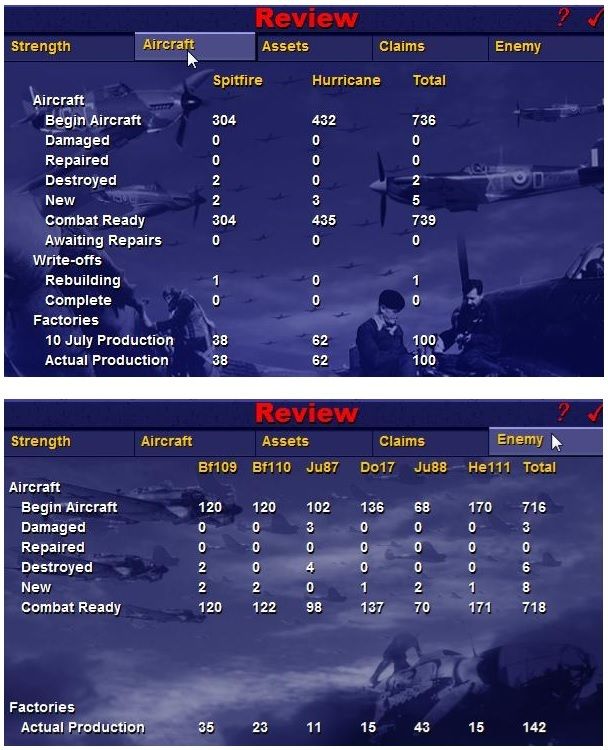 The highly detailed battle reports and updates in BOBII are now also (importantly!) highly accurate at last…
FIXED!
Despite being the most historically accurate Battle of Britain sim every produced, with every aircraft in every squadron on both sides actually modelled in the game there were still problems spotted by purists. Squadrons appearing on the wrong date for the first time, or at the wrong field. If 245 Czech squadron was in Ireland during the Battle it should NOT appear in Dover!
FIXED!
Squadron management was a big part of the old game, in fact, sometimes too big a part. If the Luftwaffe had decimated an airfield, and there were two squadrons based there, you had to manually tell them to move to a suitable field further north or they would just sit on their out of commission airfield doing nothing. Of course, they should take off and move to a new field so they can stay in the fight! Also, the game uses the 13 Group sector in Scotland as a reserve, but the player also had to manually rotate aircraft in and out of that Group to rest, and this never worked properly.
FIXED!
The game dynamically models damage to infrastructure (factories, airfields, ports) and repair rates. These were more or less fixed for all targets. You hit a target, it would be out for a couple of game turns, and then back again. Using historical records the BDG team has calculated average repair rates for each type of target, so a port that is completely knocked out might take a week to be operational again, but if lightly damaged, only a day. This makes the game much more challenging for the Luftwaffe commander whose job is to take down the RAF frontline fields and factories as he needs to fully destroy them, and keep them destroyed!
FIXED!
I haven't captured here all the gameplay fixes and improvements, just those that I noticed in my time reacquainting myself with the sim. And it was time well spent, I can tell you.
I patched the game at about 1 in the afternoon on New Years Day and have put in about ten hours on it already, as I rediscover the intense challenge of holding the Luftwaffe at bay as RAF commander, coupled with the white knuckle action of dogfights against the incredibly human-like AI over the Channel.
Does update 2.13 make BOBII worth a trip down memory lane? That would be a resounding, "Absolutely, old chap!"
(Technical note: BOBII does not play nicely with Windows 10, and won't run at all on Windows 8. The release notes include helpful advice for running the game under Win 10, but Win 7.0 is recommended for best experience.)
Do you still play BOBII or would you consider going back? To discuss this article, go to the '  Article Feedback forum!